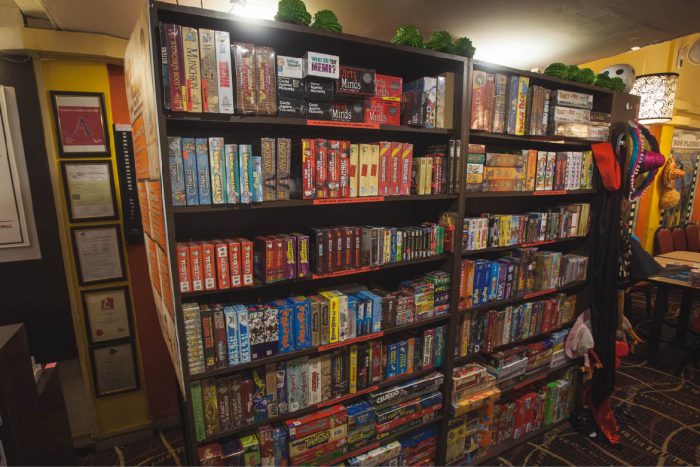 FAQ
How many Mind Cafe Outlets are there?
Currently , We have only Two outlet in town, located at:
60A Prinsep Street (Dhoby Ghaut area)
Singapore 188664
30 Prinsep Street (Mega Outlet) , #01-01
Singapore 188647
How do Mind Cafe Charge ?
$6.00 per gaming hour for 1 person, without Food and Drinks : For Monday to Thursday
We do suggest you to take our promotion packages as it is much cheaper and it comes with Free flow drinks and snacks.
Within the café there are Game Facilitators who can help find the right game for you depending
1)on your level of experience,
2)the number of players in your group,
3)the type of games you enjoy and
4)how much time you have available.
The Game facilitators can also help with setting up the game, and most importantly can help to explain the rules. Through the Game facilitators we aim to share our passion and love of board games.  Then you're able to play as many games as you want. Just pick a game off the shelf in our board game library, take it to your table and enjoy!
When you need a drink or a meal or a snack, just order from the menu and we will be please to serve you.
Check it out in the Full Menu page.
Kids below age of 7 are not chargeable.
WHAT IF YOU DO NOT WANT TO PLAY GAMES AND DO NOT WANT TO PAY FOR THE HOURLY GAMING RATES?
Then , you must be definitely our food and drinks lover, otherwise , why would you MIND to come to Mind café?
Check out our constant dynamic promotions that we do offer Drinks and Games package, Food , drink and games package under our promotion  page!
Is there any service charges or GST?
There is a 10% service charges & prevailing GST rates imposed on our prices.
Is there discount for any students?
We have tie-up with institutions from time to time, do check on our promotion page for any of these tie-ups or Student Promotions. Also,please kindly approach our management for more details. You can reach them at admin@themindcafe.com.sg
Do The Mind Cafe have any promotion currently?
Yes, we do! We have a few promotions going on at the outlets. Do check our Promotion Page
Student Package
2 hours Gaming Promotion
Nite Fever Package
I heard about the theme nights. Am i entitled to enjoy the privileges?
Yes, you can! You can enjoy our Theme nights as and when we put up the theme nights!
Do approach us for any unique & innovative idea on new theme nights! Reach us at admin@themindcafe.com.sg
How accurate are the information in the website?
We have a dedicated team behind this website that ensure all information provided are accurate. Frequent routine checks are done and updated. There are no hidden details or discrepancy in our price & charges.
What settings or software do I need to view the website?
We recommend all commonly used browsers, on both Windows and Mac platforms. For optimal viewing, we recommend using the latest version of Google Chrome, and a screen resolution of at least 1280 x 720 pixels. To view certain content, you will also need a PDF reader.
Can I find all the boardgames titles (available at the outlets) on the website?
This website have hundreds of The Mind Cafe boardgames listed, as a way of presenting our width and depth of boardgames. However, this is quite a smaller version of our complete range, simply because there are many new boardgames been reviewed and launched at our games department and outlets daily! Do visit our outlets today to look at a wider selection. (While we take all advises to ensure the website is up-to-date, boardgames being featured in the website does not guarantee there is stock availability.)
Can i have more information about your Membership program?
Do The Mind Cafe have a membership program?
Yes, we do! Currently, Mind Cafe All Star Player membership is offered at $60 dollars (one-time payment) and enjoy 1 year of membership privileges.
The privileges are :
you will be entitled to Cashback and Vouchers worth $90
How to apply for the membership?
Just fill-up the membership form at any of our outlet's counter, pay at $60 nett for the membership. Do wait a while for our staff to fill up the particulars and necessary proceedings.